Vanilla Spice Grass-Fed Ghee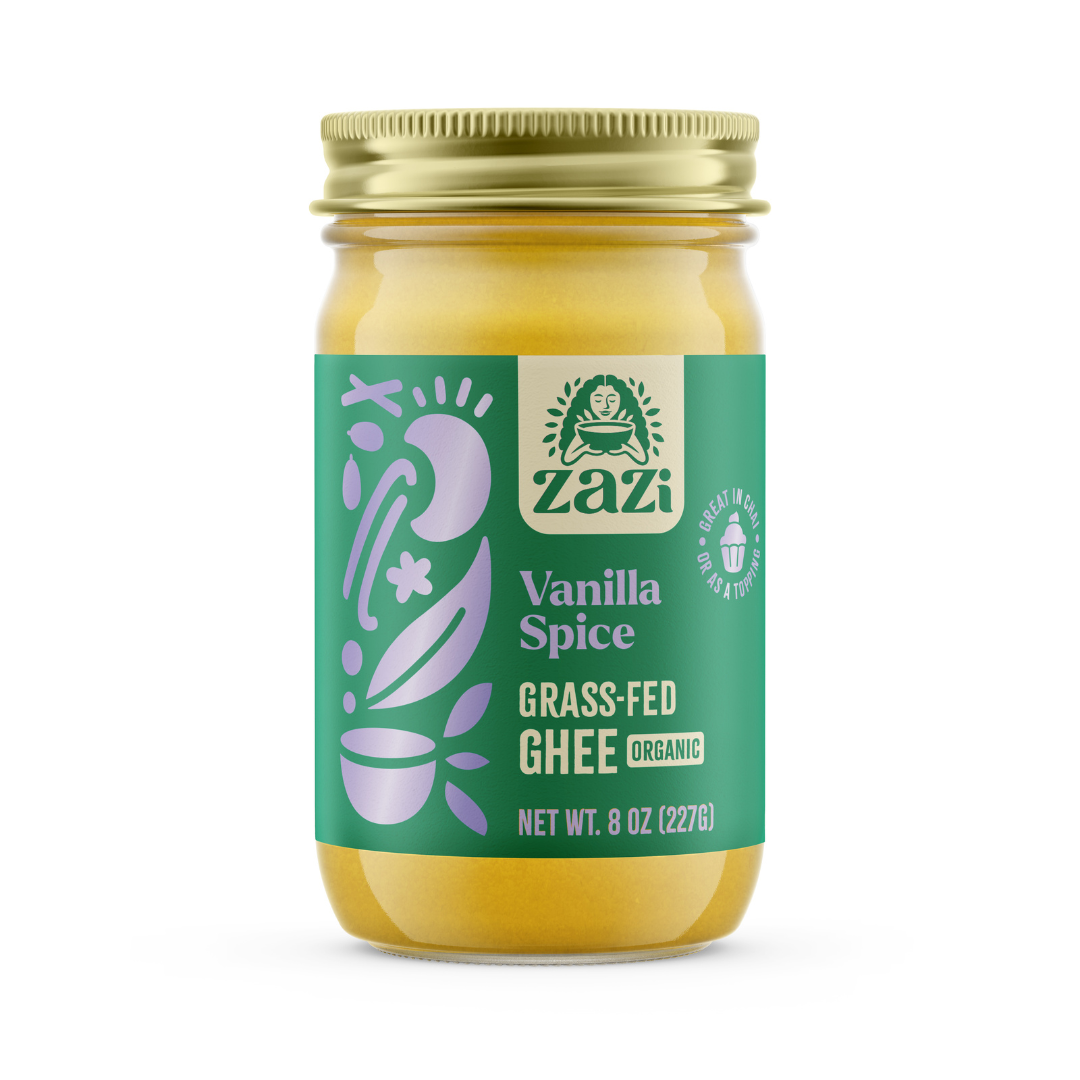 Vanilla Spice Grass-Fed Ghee
We infuse a blend of Vanilla Bean and warming chai spices to create this flavor which many of our customers refer to as "sweet ghee"  even though there's no sugar added! Try spreading on hot waffles, drizzle on ice cream or use as a butter substitute in baking or frosting recipes. Also, it makes a great graham cracker crust that people will want to eat, even without filling!
Size: 8 oz. glass jar.
Contains Milk. Does not require refrigeration. Best used within 3 months, traditionally, shelf-life is prolonged when stored in cool and dark places.
Grassfed organic butter, Vanilla bean, cinnamon, ginger, cardamom, nutmeg, black pepper

Gluten Free:
We make our products in a shared commercial kitchen where gluten-containing products may be produced. However, we do take precautions – we have our own cookware and do not make any gluten-containing products while making our ghee. However, we cannot guarantee that there is no trace of gluten in our products at this time.
Diary Intolerant:
Ghee is made from grass fed organic butter which contains casein (milk protein) and lactose (milk sugar). The butter is cooked and strained to remove milk proteins and water. Thus, most people with dairy intolerance can tolerate ghee. However traces of casein or lactose may be present.
Learn more
Ghee FAQs
Ghee is a form of clarified butter originating in India, that is a foundational staple of cooking as well as medicinal use in Ayurveda, use for skin care and in rituals (such as making ghee candles, etc.)

Ghee and other forms of clarified butter are used in cuisines around the world, for example in Ethiopian, Moroccan, French, Israli and many other cultures. These forms of clarified butter incorporate local herbs and spices and may include aged and fermented forms.


Ghee is a foundational part of Ayurveda, for diet, skin care, as a carrier for medicinal herbs, use in candles for meditation and ceremonies, and much more.

Ghee is considered stabilizing and nourishing and helps balance our system in different ways – by improving digestion (without promoting excess heat), supporting a peaceful mind (sattva), and helping to carry nutrients through the 7 bodily tissues so that they are digested to their purest form, thus promoting our immunity and resilience in mind and body (a quality known as ojas).


Ghee is a good source of energy since it is pure fat and contains short and medium-chain fatty acids. Ghee also contains butyrate (supports gut health), CLA (supports metabolism), Omega 3 fatty acids (anti-inflammatory, supports brain health), and fat-soluble vitamins A, E and K.
We use grass-fed organic butter from a family farm. Grass-fed butter is known to have increased levels of the orange-yellow pigments contained in grass (and other greens) providing the natural golden color of the butter. These pigments are known as lutein and other carotenoids, and are essential for immunity, vision and brain health.
Ghee has a very long shelf life. In general it is recommended to purchase what you will use in 3 months time for optimum flavor. However, it can be stored for longer if kept in cool dry place and is safe to use.

The most important factor in preventing spoilage is to use a clean, dry spoon each time.

Even a small amount of moisture or food contamination can result in spoilage, mold, or bacterial growth.

Changes in texture such as becoming grainy in appearance, is not an indication of spoilage.
SHOP THE OTHER COLLECTIONS